The New 2022 Dodge Challenger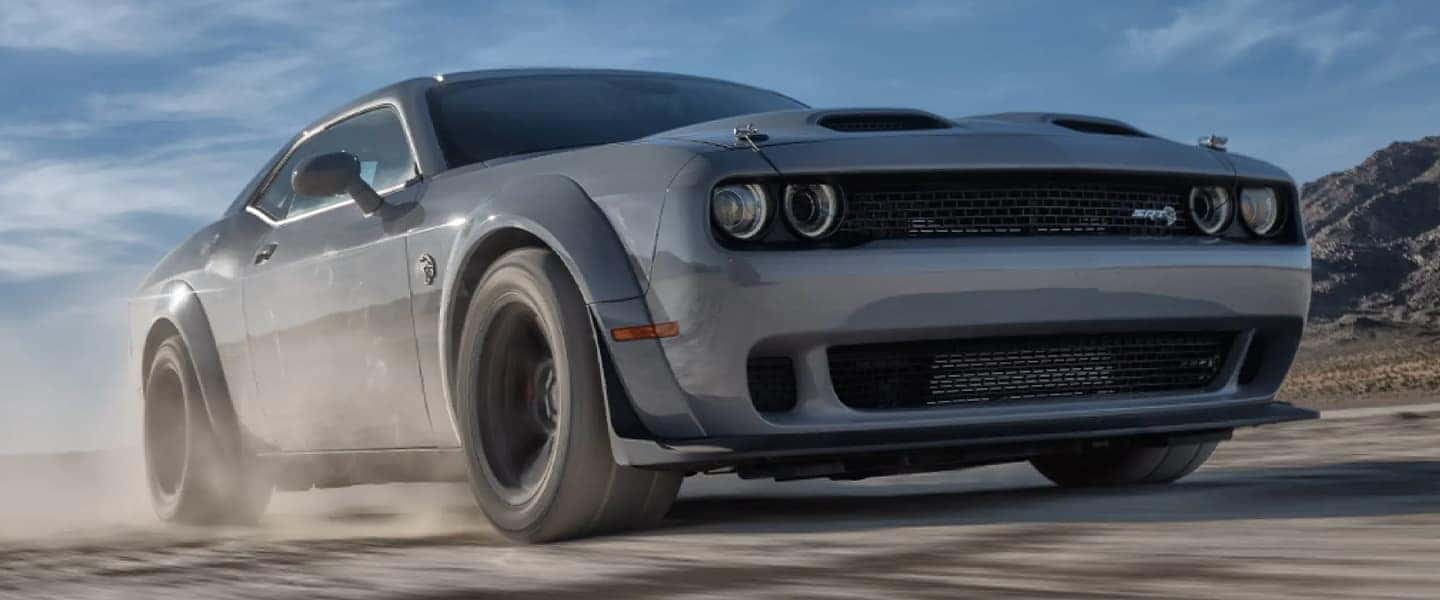 The new 2022 Dodge Challenger has the same old-school look and feel. Thanks to the aerodynamics upgrades, you will love its improved performance, handling, and responsiveness. The new Dodge Challenger also has improved suspension and a fresh interior design. There are various engine options for you to choose from, depending on the trim level. There are also 14 exterior colors from which you can choose. For over 50 years, the Dodge Challenger has maintained its standing as the top of its class, American-made muscle cars. Read on for more information on the brand new 2022 Dodge Challenger.
The Most Powerful Muscle Car on the Planet
From the beginning, the Dodge Challenger has pushed the limits and broken every record. The 2022 Challenger remains the most powerful and dynamic muscle car on the planet. The new Dodge Challenger has five different engine options depending on the trim level. How fast do you want to go?
Dodge Challenger Performance Features
The Dodge Challenger is one of the highest-performing vehicles on the market. Some of the performance features available with the latest models include a sports brake system with 12.6-inch vented rotors, launch assist, launch control, and race cooldown.
State-Of-The-Art Safety and Security Features
The 2022 Dodge Challenger provides you with a suite of safety and security features. They come with stability control that senses when the vehicle is reaching its limits and reduces power or applies brakes, so the driver does not lose control of the car. Other features include full-speed forward-collision warning, automatic high-beam headlamps, rain-sensing windshield wipers, and a rear backup camera. You will not have to worry because the deluxe security alarm with an intrusion module protects your Challenger when you aren't there.
The Dodge Challenger makers know that you can never be too careful. That is especially true when driving a high-performance muscle machine. All of their new models give you peace of mind, knowing that you are in good hands while out on the road. As always, Dodge built the new 2022 Dodge Challenger using high-strength steel, ensuring its solid structure.
2022 Dodge Challenger Trim Levels 
Keep reading to check out all the new 2022 Dodge Challenger trim levels. We will break down their differences and stand-out features below!
Challenger SXT
The 2022 Dodge Challenger SXT has a rear-wheel-drive system and a dynamic V6 Pentastar engine. It is also the least expensive of the Challenger trim options and perfect for those on a budget who want a vehicle with muscle. Road tests show the SXT can go from 0 to 60 in a little over six seconds.
Standout Features
The elegant trim sits on 18-inch alloy wheels
LED halo lights surrounding the headlamps, a trunk spoiler, and dual exhaust outlets
Challenger GT
Elevate your driving experience from the SXT to the 2022 Dodge Challenger GT and enjoy the sport-tuned suspension and paddle shifters. Dodge's automotive designers paired the engine with an eight-speed automatic gearbox, making for rapid and impressive acceleration.
Standout Features
Top-of-the-class 3.6L Pentastar V6 engine with an intense 303 horsepower engine
You will love the performance hood with a functional hood scoop and an SRT Front Splitter
Challenger R/T
The 2022 Dodge Challenger R/T boosts performance with a 5.7L V8 that will blow your mind and get your adrenaline pumping with its 375 horsepower and 410 pounds-ft of torque. Road tests report an incredible 0 to 60 miles per hour acceleration in just over three seconds.
Standout Features
Option to add the exclusive Performance Plus Package, which includes forged aluminum wheels and summer performance tires
Stay cool this summer with the front dual-zone air conditioner
R/T Scat Pack
The R/T offers the option to upgrade to the R/T Scat Pack and comes with a 6.4L V8 engine that will leave others in the dust. The engine provides a potent 485 horsepower and 475 pound-force foot of torque. You will love the Brembo brakes and racing-grade suspension upgrades.
Standout Features
Available in widebody style, adding an extra 3.5 inches to the total width
Elegantly upgraded cabin materials with heated front seats and steering wheel
SRT Hellcat
The SRT Hellcat has a 6.2L supercharged V8 engine that pumps a whopping 707 horsepower and 656 pounds-ft of torque. Ride in style and luxury. There is plenty of room in the car, and it can seat four adults comfortably. This beauty comes with adaptive suspension, speed-sensing steering, a navigation and emergency communication system, and much more!
Standout Features
5-inch wider track to help you keep up the speed around corners
Dodge pairs the high-performance engine with a six-speed manual gearbox
SRT Hellcat Redeye
The SRT provides two options for upgrades. The first option is the SRT Hellcat Redeye, which comes with a 6.2L high-output HEMI supercharged V8 engine, an incredible 797 horsepower, and 707 pounds-ft of torque. Some features include all-speed traction control and roll-mitigation control.
Standout Features 
The chiller feature diverts cool air from the air-conditioning refrigerant to the chiller unit that flows through the supercharger heat exchangers and enhances performance
TorqueFlite 8-Speed Automatic Transmission with rear-wheel drive
SRT Super Stock
While driving the SRT Super Stock, two things will come to mind: power and performance. The SRT Super Stock comes with a 6.2L supercharged V8 engine and can go from zero to 60 miles per hour in just over three seconds. The engine provides 807 horsepower and 707 pounds-ft of torque.
Standout Features
Wider wheels and tires
Widebody-specific suspension
The New 2022 Dodge Challenger is Worth the Investment
The 2022 Dodge Challenger will impress you and everyone you know, whatever your taste and the trim you choose. Not only will you leave everyone in the dust, but Dodge also offers a variety of ways to personalize your new Challenger to make it your own. Dodge has long led the pack in horsepower and performance, and they stepped up their game this year with the 2022 Challenger models. Come by today and test drive your new 2022 Dodge Challenger. Hot rod lovers will not want to miss test driving one of these mind-blowing muscle machines!